Phoebe is 10 months this June and guess what, she is a full on walker! Can you believe it… 😲
This month, I attended the Packwood flea market, participated in our annual block yard sale, and visited yard sales & another bazaar going on in town. I have come to realize that I love it! I love the thrill of the hunt for treasures, hanging with friends & bumping into people I know!
So, due to this recent excitement, I have come up with 7 tips for hosting a yard sale that will help you be more successful. Some of these tips I'm not sure you will find anywhere else…!!

#1.) PRICE YOUR CRAP AS YOU SET IT ASIDE FOR THE SALE.
This will save you SO MUCH TIME and mental work preparing for the big event!! Set aside a collection area for your items to sell, like a spare room in your basement, storage room, etc. Lay out empty boxes there and set aside a roll of masking tape and a permanent marker. As you collect items you'd like to purge, before putting them into a box, grab your tape and mark it with a price. I try to price things for about how much I might pay for something at a yard sale.
#2.) ADVERTISING: Yard Sale Treasure Map App: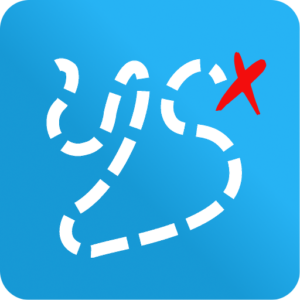 I just learned of this app. It's designed just for yard sailing. I suggest advertise on this app, as well as Craigslist and Facebook Marketplace. What's great about Yard Sale Treasure Map is that you can choose all the yard & estate sales you want to visit and it creates an optimized route for you that you can follow with your preferred navigation! And when you make a sign… make sure it STANDS OUT and gets people excited & curious!
#3.) GET TO KNOW YOUR FRIENDS & YOUR NEIGHBORS!
Getting to know your neighbors can be one way you can really boost your sales. First of all, some of your greatest sales can be from your neighbors where there is trust. Second, the more you collaborate with your neighbors about doing yard sales together, the more you draw in shoppers looking for community sales, so you end up with more buyers.

#4.) DRESS THE PART:
I love the excuse to have fun & dress the part! When I visit Packwood's famous flea market, I imagine I'm a traveling gypsy pirate looking for treasure and making sweet deals with the locals, so I usually sport a collection of boho vintage vibes. When I host my own marvelous yard sale, I try to inspire a funky eccentric essence. It's also pretty fun when you meet others who choose do to the same! At Packwood I carried on with a spirited gal who pretended she was a Viking selling her acquired goods from across land and sea. People want to buy things, especially if there is a story attached to the item, and perhaps that story is no more than the experience of where and who they bought that item from. You can easily facilitate this by dressing the part and inspiring a sale.
#5.) USE A FANNY PACK:

Part of your attire should include a good fanny pack so your money exchange is on your body (instead of at a till). Whether you're selling or shopping, you can barter and exchange monies while walking around so you can make quick deals on the spot. (Having to run back to your till to make change for people is a lot more energy/time/hassle. Yard sales are hard work, make it easier on yourself.) TIP: If you still have to price items last minute, you can slide a roll of tape onto your fanny belt and rip pieces off as you go!
6.) BARTERING
Another aspect of the hunt I have begun to enjoy is bartering. Some people are too intimidated and don't bother, some people are ruthless. It NEVER hurts to ask, so if you're new to bartering, the next time you attend a yard sale, try it out and get savvy!
Sometimes you give good deals and let people barter down, and sometimes you stick to your price, and that's okay. The whole point of a yard sale is to get rid of crap, but also make some money. If someone doesn't want to buy something because you won't go down on your price, it just means that item doesn't belong to them. TIP: don't accept $100 bills unless you're sure it's not a fake and if you see an odd bill, refuse it.
7.) REPEAT.
Schedule another one 2-3 weeks later! If you're willing to, you can hold the leftovers in the garage and since you're in the spirit of purging and selling, you can take this time to go through your home again and add more things to sell onto your tables.
Yes, yard sales are hard work, BUT—When you take all that time pricing items and setting things on tables, if there is a way to pull the tables into your garage and hold it there for a while until you do it again, the work will have already been done for you, and you have another chance to make hundreds of dollars again.
Hope these seven tips help you be more successful with your yard sales. My personal favorite is dressing the part & hanging out with friends & family. It makes it so much more fun!
Actually, that sense of community is one of the ways yard sales & flea markets are rewarding to me, besides raking in the cash & hunting for treasures. A yard sale creates the opportunity for connection with others: with random crazy types, neighbors, friends, & family coming to help out, and you bump into people you know from here & there, and even long lost friends!!
I hope to teach Phoebe about all these skills needed to be a savvy haggler and dress her up like a gypsy with her own little fanny pack as we travel the isles of bazaars & rummage sales. Of course I'm going to tie a leash to her fanny pack so she can't get too far from me! 😊
Do you have any yard sale tips!? Please share below ~ I'd LOVE to hear your genius ideas!!